HOME >
Our Business >
Business plant Factory >
Equipment for a cultivation experiment
Light source ■
Equipment for a cultivation experiment
Our compact system enables you to conduct full-scale experiments on cultivation and on liquid fertilizers. We can also offer a system for mass production. (Please contact us regarding our mass production system.)
* We can adjust the specifications according to the contents and budget for the experiments. (Please contact us regarding adjustments.)
Specifications
Width
(mm)
Depth
(mm)
Height
(mm)
No. of HEFL lighting units
No. of pumps
Power consumption(W)
1-shelf system
1,020
780
1,200
1
1
109
2-shelf system
1,020
780
1,400
2
1
196
3-shelf system
1,020
780
1,760
3
1
285
4-shelf system
1,930
780
2,010
8
1
718
4-shelf system
(with 4 tanks)
1,930
780
2,010
8
4
798
5-shelf system
1,930
780
2,040
10
1
888
You can select the specifications for the pans and pipes.
Liquid fertilizer tanks and circulation pumps are included.
We quote separately for pH meters, EC meters, illumination meters, mole meters, CO2 meters, etc.
We also quote separately for cultivation supplies such as culture media and urethane.
The power consumption stated is an estimate, and could slightly change due to different specifications of the lighting units and pumps.
Simple experimental system with pans on 3 shelves
Specifications:
circulation type with pans on 3 shelves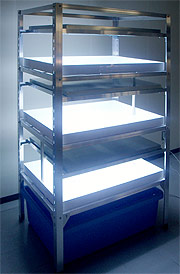 Dimensions (mm):
1,020(W) x 780(D) x 1,760(H)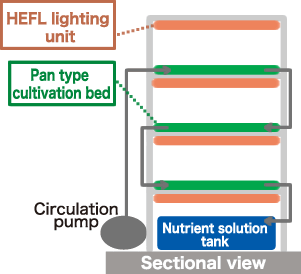 ▲3-shelf system with pans and 3 HEFL lighting units
Pilot mass production experimental line Specifications Above:pans on 4 shelves
Below:pans on 2 shelves and pipes on 4 shelves (6 shelves in total)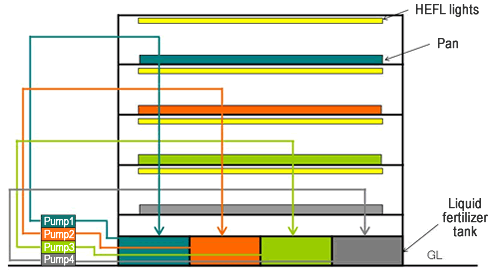 * These specifications have 4 nutrient solution tanks and are well suited for comparative assessment of nutrient solutions.
▲4-shelf system with pans and 8 HEFL lighting units

1st shelf Seedling line

2nd shelf Young plants

3rd shelf Mature plants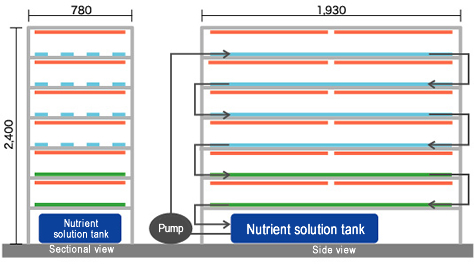 This system is suitable for conducting experiments before installing the mass production line.
In the case of frillice lettuce , this system can produce 18 plants within 4 days.
HEFL lighting: 12 units
Our Business

Business plant Factory

Light source

System

What is "Tsuburina"?